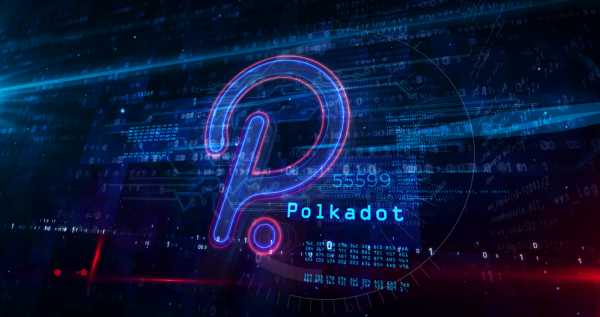 2022 has started well for crypto investors because most coins are posting significant growth. Some of the digital currencies worth watching for investors, include:
Polkadot (DOT)
Polkadot is a blockchain-agnostic platform that enables users to send data and value across networks that were previously incompatible. The coin's relay chain enables multiple blockchains to communicate data and transactions in a trustless way through its intermediary chain.
This cryptocurrency makes it much easier to establish and link decentralized apps, services, and organizations than ever before. However, the market seems to be discerning. Although Polkadot (DOT token) has dropped by almost 50 percent from it's all-time high (ATH) established in November 2021, it returned over 300% during the year.
The fact that Polkadot has blisteringly fast speeds compared to rivals such as Avalanche and ethereum contributed to its December 2021 price to rise. DOT's rivals have significantly lower processing speeds, in that coins like Ethereum which carry out around 30 transactions per second.
Due to the rising number of DOT's blockchain developers seen in 2021, the DOT is anticipated to climb. The number of coin's blockchain developers began at 2600 at the start of last year and ended at 10,000 by the end.
Finally, this year will see a rise in Polkadot due to the significant partnership by Europe's biggest telecommunication company "Deutsche Telekom."
Avalanche (AVAX)
In the blockchain market, Avalanche is the quickest and most efficient cryptographic protocol platform. It's lightning quick, cheap, and non-polluting. The native token of Avalanche is referred to as "AVAX."
Despite being released later than Bitcoin, it has already amassed more than 1.3 million users, 400+ distinct projects, $64 million in AVAX burned, and 1200+ global block-producing validators. Despite its late entry into the digital currency market, Avalanche outperformed its predecessors by gaining +3100 percent in terms of ROI.
AVX looks set to rise in 2022, according to various algorithm models like WalletInvestor, and the optimistic sentiment is expected to continue as projected. As DeFi and NFTs become more popular, new users may see Avalanche's blockchain as an alternative to other blockchains such as Ethereum. If companies like Deloitte embrace the Avalanche blockchain in 2022, as worldwide cryptocurrency adoption grows, this rise will continue.
Tron (TRX)
Tron is a blockchain-centric operating system with the aim of making cryptocurrencies' core building block technology more accessible to the average user. Smart contracts and decentralized apps are two features of the blockchain that allow for the creation of Dapps.
Tron's rapid transaction speeds of around 2000 transactions per minute have made it popular in the crypto market. This rate is an indication of Tron's anticipated growth in 2022.
In 2022, the blockchain is expected to increase in popularity as a result of its set goals. The objectives include providing simple distributed file sharing, incentivizing content production through financial incentives, allowing content producers to create their own personal tokens, and decentralizing the gaming sector.
As the blockchain matures, it will grow to other continents as DeFi gains momentum. Tron has also teamed up with various firms, including Bitmain and Poloniex. These relationships indicate the blockchain's stability, suggesting that prices could rise this year.
Bitgert (BRISE)
The project has a rapid growth rate, which has piqued the attention of many investors. The team has launched several items in a short period of time. Bitgert Audits, Brise wallet, and Bitgert Swap are three significant projects developed by the team in the first 120 days since the token launch.
The benefits of Bitgert staking have been demonstrated. Since December 7, 2021, the community has exploded considerably, with more than $25 million worth of Bitgert (BRISE) staked in a few days.The staking activity is propelling Bitgert coin prices higher, which might make it the most lucrative cryptocurrency investment in 2022.
Centcex (CENX)
Centcex was established to tackle two main problems in the current crypto market today, including security and user experience. The blockchain provides a platform for exchanging various currencies or tokens with excellent security, complete anonymity, and speed.
The price of CENX has risen by almost 24% in the last week, after having been on a significant uptrend for a month. This is an excellent moment for investors to enter CENX since it has recently shown a lot of promise in the early days of 2022.
To appeal to a broader audience, the platform has made sure that the blockchain is compatible with both Android and IOS systems. As a result of its efforts to improve its products, CENX is anticipated to rise in value this year. The firm has funded its marketing through the creation of marketing initiatives and branding via a variety of media platforms, such as YouTube channels.
Stellar (XLM)
Stellar is a decentralized network that seeks to bring together the world's financial institutions under a single network, allowing consumers to create, transmit, and trade a variety of digital currencies. Because the network's technology is distributed across various servers, activities are not controlled by a single authority.
Stellar is predicted to continue enjoying an upward trend in 2022 due to companies like Mercado Bitcoin opting to use its network for its transactions. Visa and fintech start-up Tala are collaborating to bring the USD stablecoin USDC to consumers on the Stellar blockchain.
Tala's clients may now use USDC as payment at more than 70 million merchants around the world that accept Visa, upending its global strategy. Stablecoins may be taken out as asset loans when investors pledge their cryptocurrency as collateral, allowing them to maintain financial stability without selling their holdings. It's not only Visa. The euro stablecoin EURB was introduced by Bankhaus von der Heydt, one of Europe's oldest banks (established in 1754), on the Stellar blockchain last year. Despite the regulatory ruckus, Stellar is a name to keep an eye on in 2022.