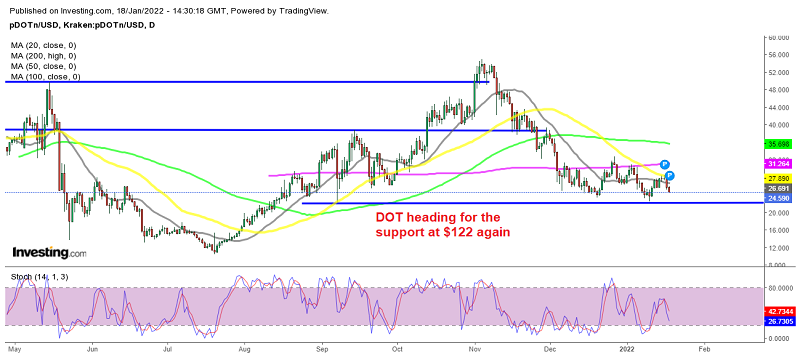 Cryptocurrencies continue to remain undecided. Just when you think they are starting to gain some bullish momentum, they turn bearish. The first week of January was bearish, last week we saw a reversal higher while this week so far has been bearish again. Polkadot and Litecoin were showing some bullish momentum last week, but they have both failed at the 50 daily SMA and are reversing down today.
Polkadot Keeps Making Lower Highs
Polkadot's goal is to provide a scalable platform for decentralized global apps. it does this through parachains and it has launched the first five parachain auction winners which were Acala, Moonbeam, Parallel Finance, Astar, and Clover. This will bring to the Polkadot network higher cross-chain interoperability and many projects mainly focusing on decentralized finance (DeFi), which has been receiving a lot of attention in the last two years. Moonbeam has already launched successfully on Polkadot.
This means that the network will have increasing real-life use-cases, increasing the demand for the DOT coin. Although, Polkadot has been bearish since early November following the cryptocurrency market down. In the last two months, the pace of the decline has slower, but DOT/USD keeps making lower highs and the 50 SMA (yellow) on the daily chart has turned into a solid resistance indicator.
The price has reversed back down this week, but the support around $22 looks like a good place to buy this cryptocurrency. If the bearish momentum continues, then the summer support at $10 is the ultimate level.
Litecoin Reverses at the 50 SMA
LTC falling below the support at $140 again
Litecoin has also been showing bearish pressure since November, after a failed rally from $200 to $300. It was unfortunate that the crypto market turned bearish back then and LTC gave back all the gains, as it slid down to $120. Last week we saw a bullish reversal which continued yesterday as the market was turning bearish, but the negative sentiment in the market is prevailing today as well and LTC/USD has turned bearish too.
We saw some bullish data from Santiment, showing positive on-chain metrics as the number of whales has been accumulating on LTC longs. The MimbleWimble upgrade is attracting attention so hopefully, that will help Litecoin turn bullish. But for now, it remains trading close to the $140 support.
LTC/USD