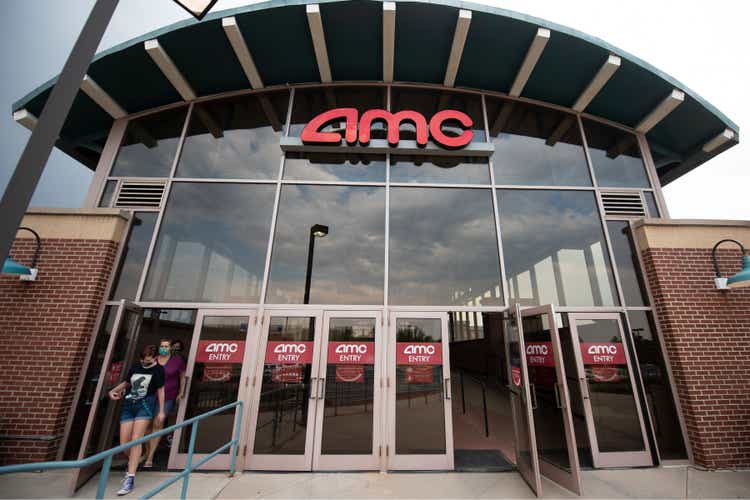 This article was prepared by Jenny.T in collaboration with JR Research.
Investment Thesis
AMC Entertainment Holdings, Inc. (NYSE:AMC) is one of the largest theatrical exhibition businesses in the world, with approximately 950 theatres and 10.5K screens in the US, Europe, and Saudi Arabia. As of 2021, AMC joined other companies that have added cryptocurrencies to their balance sheets, confirming that it will accept cryptocurrencies as new payment methods for online tickets and concessions. The massive potential in future mainstream adoption will make these cryptocurrencies a long-term digital asset for AMC.
In addition, the competent management managed to stem some of the losses during the peak of the pandemic in FQ2'20, by reducing capital expenditure, operating expenses, and tenant negotiations by "hundreds of millions." As a result, it has led to more efficient EBITDA margins, which have recovered from -1852.9% in FQ2'20 to -5.2% in FQ3'21. Furthermore, with the latest Spider-Man movie's massive success, consensus estimates AMC will report sustainable recovery to pre-pandemic levels by FY2023.
We discuss whether investors should add AMC stock now.
AMC Aggressively Added Cryptocurrency To Its Balance Sheet
2021 marked when AMC joined other companies that added cryptocurrencies into their balance sheets, such as Tesla (TSLA) and MicroStrategy (MSTR). On 12 November 2021, AMC announced that it accepts cryptocurrencies as new online payment methods for movie tickets and concessions. It includes Bitcoin (BTC-USD), Ethereum (ETH-USD), Bitcoin Cash (BCH-USD), and Litecoin (LTC-USD), on top of other digital payments such as Apple Pay, Google Pay, and PayPal. Adam Aron, CEO of AMC, reported that these new payment methods accounted for 14% of its online transactions thus far. In addition, the company will also accept Dogecoin (DOGE-USD) and Shiba Inu (SHIB-USD) by FQ1'22.
Furthermore, AMC also announced collaborations with WAX Blockchain for Spider-Man NFT and AMC-related NFT. It marked the first-ever NFT collaboration between a movie studio and a major theatrical exhibitor. Many fans reportedly thronged the booking website for a chance to redeem one of the 86K limited edition NFT, which helped boost the sales for movie tickets for the opening day.
We believe AMC's foray into cryptocurrencies is not by accident, as the cryptocurrency market experienced extreme growth of 375% in 2021. In addition, BTC and ETH rose to their all-time high of $68.7K and $4.4K in November 2021. As a result, we expect AMC to do well by holding multiple popular cryptocurrencies as these generally perform excellently over the years. For example, we have observed a price return of 1,099.04% for BTC in the past three years despite the COVID-19 pandemic, representing a ten-fold increase in price return from the S&P 500 index. In addition, in the past ten years, BTC has easily outperformed the S&P 500 index by 30 fold.
Despite its volatility, there is a strong possibility of cryptocurrencies reaching new heights from 2022 onwards, due to their massive popularity with the Millennials and Gen Zs. As a result, we expect these cryptocurrencies to be a long-term digital asset for AMC, with increased mainstream adoption moving ahead.
To Survive The Pandemic, AMC Depended On Debt Leveraging And Share Dilution
AMC Free Cash Flow, Cash & Equivalents, and Share Dilution. Data source: S&P Capital IQ
AMC has had a healthy balance sheet and cash flow before the pandemic. In FY2019, the company reported $265M of cash & equivalents and $49.1M in free cash flow. Nonetheless, those numbers were decimated during the pandemic, to $308.3M of cash & equivalents and -$1.3B of free cash flow in FY2020. As a result, to fund its ongoing operations, the company opted to dilute its shares from 152.3M in FQ1'21 to 513.3M in FQ3'21. It represented a massive share dilution by over three folds within a short time frame, while taking advantage of its "meme stock status." The strategic plan worked, and AMC is currently cash-rich with $1.61B in its balance sheet as of FQ3'21.
In addition, AMC used debt leveraging and refinancing to extend debt maturity in a series of offers in 2020 and 2021. According to S&P Capital IQ, AMC has a total long-term debt of $10.9B as of FQ3'21. The company has committed to refinancing some of its debts, which were previously undertaken at high-interest rates during the height of the pandemic. By doing so, AMC would incur lesser interests while extending debt maturities further. Moving forward, we do not expect a similar share dilution for AMC as it is a one-off event resulting from the COVID-19 pandemic. In addition, we expect the company to report healthier free cash flow as more consumers return to the cinemas, given the release of many prominent movies in 2022 by Marvel Studio, Universal Pictures, and DC Films. These films have been mostly committed to theatrical releases, prior to Premium Video On Demand (PVOD) access 45 days later.
Post-Pandemic, AMC Is Still Struggling To Recover To FY2019 Levels
AMC Revenue and Net Income. Data source: S&P Capital IQ
Pre-pandemic, AMC reported excellent revenue growth at a CAGR of 17.48% from 2016 to 2019. Nonetheless, the COVID-19 pandemic has cannibalized its performance, and AMC's revenue fell from $5.02B in FY2019 to $1.07B in FY2020, representing a decline of 78.6% YoY. In addition, despite the reopening cadence post lockdowns, AMC only reported $1.32B of revenue in the last twelve months. Nonetheless, in FQ3'21, AMC reported a higher than expected revenue of $690.3M, representing a growth of 174% QoQ and 750% YoY, though it is still a -43.2% decline from FQ3'19 levels.
In FQ3'21, AMC posted excellent recovery as movie attendance rose to 40M, compared to 6.5M in FQ3'20, representing an increase of 615% YoY. Its number comprises 26.7M of US moviegoers and 13.3M internationally, compared with 1.96M and 4.5M in FQ3'20, respectively. Nonetheless, these are still far away from FQ3'19 attendance of 61M in the US and 87M internationally, which accounted for AMC's all-time record-breaking numbers for the third quarter of any financial year. The attendance in FQ3'21 represented only 43.7% and 15.2% of FQ3'19's record numbers.
The re-opening cadence mainly aids the return in moviegoers in 2021 due to the increase in vaccination rates, which allows the release of many long-awaited movies. As a result, AMC reported that all of its theatres were open during the third quarter of 2021, with an increase in movie screenings from 4K in FQ3'20 to 10.1K in FQ3'21. The company also reported an excellent YoY increase of 26% for spending per patron at $19.08 in FQ3'21, compared to $15.12 in FQ3'19.
AMC EBITDA and EBITDA Margin. Data source: S&P Capital IQ
Historically, AMC's EBITDA margin had hovered in the range of 13% to 15%. However, it has plunged to -85.9% in FY2020 and -58.1% in the last twelve months. Nonetheless, we are starting to see some significant recovery by FQ3'21 at -5.2%, compared to -1852.9% in FQ2'20. It has been mainly aided by the competent management that controlled losses during the heights of the pandemic in FQ2'20:
the reduction in capital expenditure and operating expenses, in the range of "several hundred million dollars."
landlord negotiations, resulting in a permanent annual reduction of $35M in global theatre lease.
improvement in liquidity by share dilution, debt leveraging, and debt refinancing.
streamlined staffing in headquarters and operations, by "several hundreds of people."
By FQ3'21, performance optimization of the theatres was also completed by closing 17 non-performing locations and opening 18 new theatres at high-performing locations. As a result, we expect the company to report sustainable EBITDA margins moving ahead, assuming similar operating efficiencies and comparable turnout for other movies.
AMC Projected Revenue, EBITDA, and Net Income. Data source: S&P Capital IQ
In the next two years, AMC is expected to report consistent revenue growth at a CAGR of 44.23%, representing the normalization of its revenue to pre-pandemic levels. Consensus estimates that AMC's annual revenue would have fully recovered to $5.18B by FY2023, in line with $5.02B in FY2019. In addition, the blockbuster success of the latest Spider-Man movie shows a potential turnabout for the current theatrical situation, given the right catalyst. Moving forward, we expect AMC to report steady recovery, as some return to their pre-pandemic lifestyle.
So, Is AMC Stock A Buy?
AMC EV/Fwd Revenue. Data source: S&P Capital IQ
AMC is currently trading at an EV/NTM Revenue of 4.22x, in line with its 3Y mean of 4.12x. However, the stock price is highly volatile and is susceptible to frequent speculation whenever momentum spikes. Furthermore, investors who add now are expecting that the company can successfully deliver FY23's revenue estimate.
Given that AMC is susceptible to the COVID-19 situation, we expect the company to be highly affected by future variants and government regulations. Furthermore, its foray into the highly volatile cryptocurrency market indicates that it would potentially hold less cash for its operations and expansions moving forward.
There is also intense competition from the booming online streaming market such as Netflix, Disney+, Apple TV+, and HBO Max. Though AMC will enjoy a profit-sharing arrangement with Universal Pictures for its PVOD segment, none has been announced for other entertainment companies like Disney and Warner Brothers. As a result, there is a real possibility that the cinema operators may not enjoy the same robust demand as pre-pandemic times. Nonetheless, aggressive investors may still invest in AMC during the dip if they can tolerate short-term volatility ahead.
As a result, we rate AMC stock as Neutral for now.