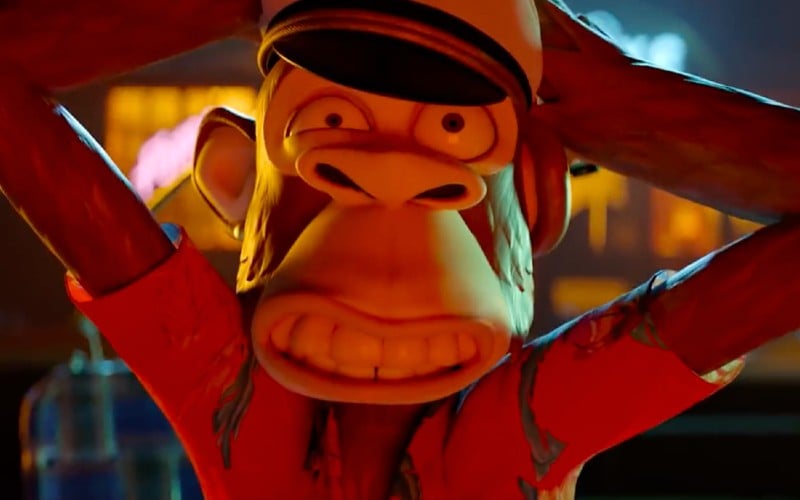 Cryptocurrency
Deals
FinTech
Investment
MediaTech
A rush to buy 'virtual land' in a future metaverse to be created by the company behind the Bored Ape Yacht Club crashed Ethereum.
The BAYC, one of the most popular NFT collections, is a series of computer-generated apes. Its owner Yuga Labs saw its much-hyped Otherdeeds sale – land plots in a BAYC-themed virtual environment called Otherside – cause chaos as transaction fees spiralled out of control.
The 55,000 Otherdeeds plots could only be bought using the project's associated cryptocurrency, ApeCoin, which launched in March and is hosted on the Ethereum blockchain. They were sold at a flat 305 ApeCoin, worth around $4,500 at the time of writing.
However due to the demand, some users able to secure a plot ended up paying gas fees which were double the price of the NFT itself. Others who were carrying out the transaction but ran out of assets partway through failed to secure the NFT but were charged the gas fee nevertheless.
"We know that the Otherdeed mint was unprecedented in its size as a high-demand NFT collection, and that would bring with it unique challenges," said Yuga Labs.
"We're sorry for turning off the lights on Ethereum for a while."
Wikipedia parent halts crypto donations
The parent company behind Wikipedia will no longer accept cryptocurrency donations.
The Wikimedia Foundation began accepting such donations – which it immediately converted into dollars – in 2014 at the request of its users.
That decision has now been reversed, and the organisation's BitPay account closed down, following a proposal from one of its editors Molly White.
White wrote that accepting crypto donations was a tacit endorsement of "extremely risky investments" and technology that are "inherently predatory".
She added that the leading virtual currencies Bitcoin and Ethereum, which are based on the proof-of-work model, are "extremely damaging to the environment" which may not align with the project's sustainability commitments.
She said the Wikimedia Foundation risked reputational damage from accepting donations in crypto form.
More than 70% of those voting backed the move.
Bitcoin trading platform launches Crowdcube campaign
A savings and investment app dedicated to Bitcoin has raised €1.2 million and launched a crowdfunding campaign.
Founded by Julian Liniger and Adem Bilican, Relai is headquartered in Switzerland. Launched in 2020, it boasts more than 24,000 active users in 40 countries across Europe.
It aims to bring Bitcoin into the mainstream by making access possible within one minute.
Relai's lead VC investor, Redalpine, invested again alongside Polytech Ventures, Fulgur Ventures and ACE & Company.
The Crowdcube campaign, which launches today and closes on 30th May, allows investors to invest from €10 for common shares in the business. Investors will receive an update on the company's performance every quarter.
Those who invest €5,000 or more will be entitled to 0% fees on transactions on the Relai app.
Cryptocurrency shorts
VC investment in crypto projects totalled a record $10 billion globally in the first quarter of 2022, more than double the level seen in the same period a year ago. It is the first time institutional investment has not followed the price of Bitcoin, with the leading crypto falling significantly in value over the time period.
There have been 73 M&A crypto deals so far in 2022 with a combined value of $8.8bn. There were 51 deals worth $6.8bn in the whole of 2021.
There was a big increase in the amount and types of crypto assets being seized by UK police forces in 2021, according to a report from The Observer newspaper based on Freedom of Information requests.
Argentina's largest private bank Banco Galicia now allows users to buy bitcoin, ether, USDC and XRP.
Investor Warren Buffett says he wouldn't agree to buy "all of the bitcoin in the world" for $25, prompting scorn from Tesla entrepreneur and soon-to-be Twitter owner Elon Musk, the world's richest person.
Crypto prices
The overall market cap of the more than 19,200 coins is at $1.74 trillion, down from $1.81tr ahead of the UK's Bank Holiday weekend.
Market leader Bitcoin – the original cryptocurrency created by the mysterious Satoshi Nakamoto – dropped around £1,000 to $38,500 at the time of writing (7am UK). BTC is down 5% in a week.
Ethereum, the second most valuable crypto coin – created as a decentralised network for smart contracts on the blockchain – fell around $50 to $2,850. ETH is 5% down over the course of a week.
Binance Coin is a cryptocurrency created by popular crypto exchange Binance to assist its aim in becoming the infrastructure services provider for the entire blockchain ecosystem. Its BNB token lost $15 to $390, leaving it 3% down over seven days.
Solana is a blockchain built to make decentralised finance accessible on a larger scale – and capable of processing 50,000 transactions per second. Its SOL token lost more than $8 to $89 and is down 12% compared with a week ago.
The XRP token of Ripple, a payment settlement asset exchange and remittance system, acts as a bridge for transfers between other currencies. XRP dropped 2 cents to below 62c, which leaves it 10% down over seven days.
Terra, described as a programmable money for the internet, lost more than $1 to below $85. Its payment token LUNA is 11% lower than its price a week ago.
Cardano is an open source network facilitating dApps which considers itself to be an updated version of Ethereum. Its ADA token, designed to allow owners to participate in the operation of the network, lost 5c to 79c. It is 11% down over the course of a week.
Meme coin DOGE was created as a satire on the hype surrounding cryptocurrencies but is now a major player in the space. DOGE fell 1c to almost 13c, leaving it 17% down in a week.
Avalanche, a lightning-quick verifiable platform for institutions, enterprises and governments, came out of nowhere months ago to break into the top 10 currencies. Its AVAX token fell $6 to below $62 and is 15% down in a week.
Polkadot was founded by the Swiss-based Web3 Foundation as an open-source project to develop a decentralised web. Its DOT token, which aims to securely connect blockchains, shed almost $2 to $15.17 and is 16% lower than its price a week ago.
To see how the valuations of the main coins have changed in recent times – and for round-ups of recent cryptocurrency news developments – click here.
For valuations of the top 250 coins by market cap plus 24-hour price change and volume traded, see below.
[clpti-crypto-widget id=82728]