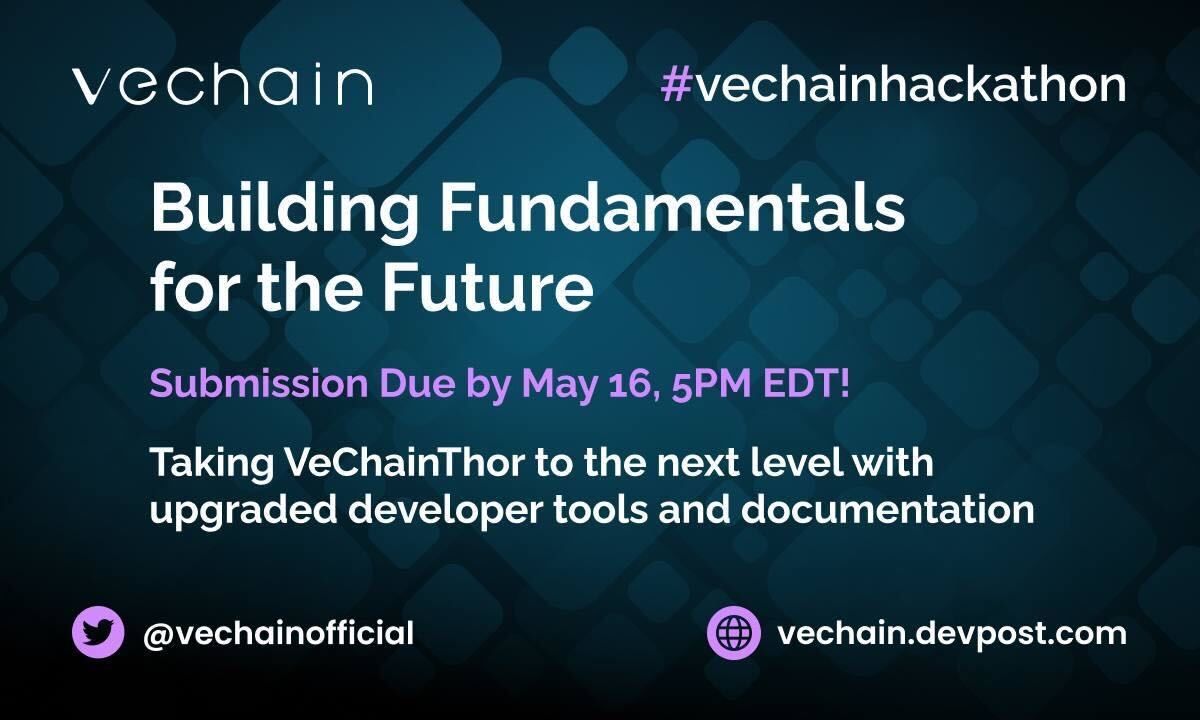 VeChainThor is the world's leading enterprise-grade smart contract platform. Since its original launch in 2015, the network has been built on an impressive list of companies including Walmart, BMW, LVMH, DNV, PwC, Bayer and more.
Contrary to common perception, the VeChain Foundation's focus is on more than the supply chain. Undeniably, it has been one of its most successful application areas to date, but the blockchain is being applied across a diverse set of industries. From traditional ones like healthcare, automotive and food and beverage, to upcoming industries like sustainability, NFTs and DeFi. 
One of VeChain's core missions is to lower the barrier to entry of blockchain technology. With the introduction of VeChain ToolChain™, an off-the-shelf blockchain suite, they were able to drive this for enterprise clients. Now, VeChain is focusing on providing the same level of ease for developers.
The VeChain Hackathon 
The VeChain Hackathon was launched in response to more and more projects looking to build their dApps on the VeChainThor blockchain. The intent is to bolster the developer toolkits, onboard powerful solutions and align with tools on other EVM compatible networks, creating a frictionless environment for dApp builders.
To facilitate, the VeChain Foundation has put up $95,000 in prizes, with entrants requested to build a submission for the main track, with the option of an additional bonus submission if participants can showcase their technology in some form.
As per the rules, entrants are required to develop new frameworks and tooling, with given examples including:
Tools to start (local) blockchain instances
Utilities to write, compile, debug and test smart contracts
Utilities to deploy smart contracts
Development frameworks for python, javascript and/or typescript
Front-end libraries that help developers build user-facing applications that connect with the VeChainThor blockchain
Integrations with decentralized storage options like IPFS
Ports of common ETH tools such as Truffle, Hard Hat etc
In the bonus categories, participants may also build a dApp, wallet, DeFi protocol, 'green' application or any other secondary project that showcases the benefits of the Entrant's Primary Project. In addition, a new category was introduced specifically for an upgrade to the Python SDK ABI to make it compatible with ABI v2.
Go Forth And Buidl!
Want to get involved, or stay abreast of news about future VeChain hackathons? Click here to sign up today! 
With the submission deadline fast approaching on May 16th, the time is now to work on those entries. The VeChain Foundation can't wait to see what you can do!
About VeChain
Launched in 2015 as a private consortium network, the VeChain Foundation went on to develop the VeChainThor public blockchain, a fully programmable EVM compatible L1 smart contract platform that is adaptable to wide-ranging real-world needs. Supply chain, sustainability, carbon emissions, SDGs, De-Fi, NFTs and more, VeChainThor seamlessly handles it all.
A unique two-token model ensures low and stable transaction costs while an advanced Proof-Of-Authority consensus mechanism guarantees high throughput, scalability, and security with minimal energy consumption, culminating in zero downtime for the network after 3+ years of continuous operation.
VeChain Technology continues to pioneer real-world blockchain applications across the globe with offices in China, Singapore, Luxembourg, Japan, France, San Marino and the United States.
Strong independent development capabilities combined with the professional compliance guidance of strategic partners PwC and DNV GL has enabled VeChain to establish partnerships with leading enterprises including Walmart China, Bayer China, BMW Group, BYD Auto, PICC, H&M Group, Shanghai Gas, LVMH, D.I.G, ASI Group and more.
Disclaimer
All the information contained on our website is published in good faith and for general information purposes only. Any action the reader takes upon the information found on our website is strictly at their own risk.