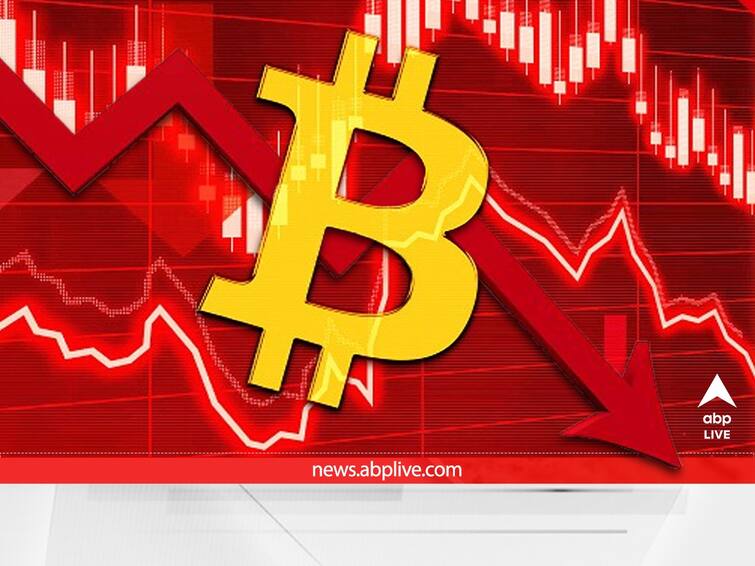 Bitcoin price crashed to a record 18-month low this week. On Monday, BTC dipped to around $25,600 and has shown no signs of recovery since. At the time of writing, Bitcoin stood at $22,726, as per CoinMarketCap data. As per Indian exchange WazirX, Bitcoin price stood at Rs 18.91 lakhs. This marks a massive dip of around 80 percent when compared to Bitcoin's all-time high of $68,000. This followed an overall crypto market bloodbath seen in May when the TerraUSD US dollar-pegged stablecoin's collapse wiped out $60 billion in investors' wealth. In this article, we will look at why the crypto prices crashed again, and what investors should keep in mind under the current scenario.
Bitcoin price crash: How much did Bitcoin and Ethereum lose in the last 24 hours?
As per CoinMarketCap, Bitcoin price was down 7.69 percent in the last 24 hours. BTC's highest value this year so far has been around $49,000, as seen in March. It appears to have lost over 50 percent value in just over two months.
Bitcoin, the world's largest crypto, has been on a decline for 12 consecutive weeks now, subsequently dragging down most other tokens with it.
ALSO ON ABP LIVE: RBI Governor Continues To Maintain Strong Stance Against Crypto, Says They 'Pose Huge Risks To Financial Stability'
Ethereum, the second most-valued cryptocurrency after BTC, fell 2.98 percent during the same period. At the time of writing, ETH price stood at $1,224.67. ETH price in India stood at Rs 1.01 lakhs.
Bitcoin price crash: Why are crypto prices plunging?
Edul Patel, CEO and Co-Founder of crypto trading platform Mudrex, told ABP Live, "The crypto market has been under pressure from the [US] Federal Reserve, hiking the interest rates to combat inflation over the past few months. Bitcoin suffered a broad sell-off following the data showing the US inflation hitting a 40-year high this weekend."
Analysts have suggested that Bitcoin may hit a low of $14,000 this year if current trends continue. Patel, however, noted that "there cannot be a set timeline or certainty that this will happen."
As per several reports, the biggest outcome of the recent crypto crash is the pausing of all withdrawals by the crypto lending platform Celsius.
ALSO ON ABP LIVE: Celsius Blocks Withdrawals Due To 'Extreme Market Conditions'
The firm informed its clients on Monday, "Due to extreme market conditions, today we are announcing that Celsius is pausing all withdrawals, Swap, and transfers between accounts."
The platform built its userbase by offering high yields of up to 18.63 percent on deposits. As of May, Celsius has lent out over $8 billion and managed nearly $12 billion (all of which has now been locked up). Its own token, CEL, also lost value, dropping from $7 to just 33 cents in the past year.
"We are taking this action today to put Celsius in a better position to honor, over time, its withdrawal obligations," the company's memo said on Monday, sending ripples of concern among investors about the firm's solvency.
Another crypto lending company, BlockFi, will be laying off "roughly 20 percent" of the workforce. "This decision was driven by market conditions that have had a negative impact on our growth rate and a rigorous review of our strategic priorities," the firm's founders said in a blog post.
Exchange platform Crypto.com will be letting go of approximately 5 percent of its workforce, CEO Kris Marszalek tweeted. "We will continue to evaluate how to best optimise our resources to position ourselves as the strongest builders during the down cycle to become the biggest winners during the next bull run," Marszalek wrote.
That means making difficult and necessary decisions to ensure continued and sustainable growth for the long term by making targeted reductions of approximately 260 or 5% of our corporate workforce.


— Kris | Crypto.com (@kris) June 11, 2022
Bitcoin price crash: When will the market recover?
"We have seen many Bitcoin corrections since 2011, but Bitcoin has returned strongly. It has been historically observed that bear markets are usually quick to plunge and never last long," Patel said. "It is just a matter of time that may require a price bounce. The current bearish market may likely continue for the next few weeks as it has still not recovered from the previous month's correction."
ALSO ON ABP LIVE: EXPLAINED | Terra Luna Crypto Crash: Why Is LUNA Price Falling?
Bitcoin price crash: What should investors keep in mind now?
Given the current scenario, Patel advises that investors looking towards stocking up on cryptos can DCA." For those unaware, DCA, or dollar-cost averaging, is a long-term strategy that can help reduce the impact of market volatility by investing smaller amounts into an asset on a regular basis. There's no fixed schedule for DCA. It can last for some months or even a few years, depending on the investors' goals.
"At the same time, others should closely monitor the market movements rather than jumping into impulsive buying activities," Patel cautioned.